Course 2 – Stool or Table Construction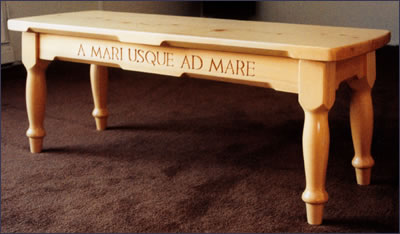 Course Schedules
Course Description
This is a 'starting point' course and is very similar to Course 1 - Frame Construction. However, this course is more demanding, there is more work to do, and more components to shape and fit.
The aim of the course is to explore the construction and design of a table with four legs in a square or rectangular arrangement. This traditional order of construction calls for mitred mortise and tenon joints for the upper rails, where they join the legs. Lower rails may be added to the structure. The legs and table top are made from solid wood.
A review of sharpening techniques will be concurrent with practice samples of the joinery required by this project. For example, a sample may be an exact model of the corner of the table frame - a square leg or post, mortised to accept the two mitred tenons of the rails.
Work on the table itself will begin when wood has been chosen and size and proportions have been decided. Full size drawings for the recommended structures will be available for reference. The student, in consultation with the teacher, will decide the shape of the legs and the top.
Course Content
Measurement and lay-out
Use of the bench and the vise
Safety in the workshop
The datum of face-side and face-edge
The rules of planing
Sharpening edge tools
Choice of suitable tools
Dealing with difficult wood grain including end-grain
The choice of suitable hardwoods and their sources
Making the mitred haunched mortise and tenon joint as a sample
Making the stub mortise and tenon joint as a sample
Making the slape joint
Making the solid table top from several boards
Use of the band saw
Use of the table saw
Use of the compound mitre saw
Use of the drill press
Use of the chisel mortiser
Use of the jointer
Use of the thickness planer
Procedures for clamping and gluing
Preparing wood to accept a finish coating
Exploring various types of finish coatings
Exploring various options for developing the appearance and ultimate shape of the table
Application of this construction to furniture design
The cost of all materials (wood, glue, abrasive paper, finish coatings, hardware
and fastenings etc.) is the responsibility of the student.