Course 1 – Frame Construction in Furniture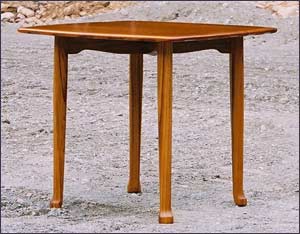 Course Schedules
Course Description
This is a 'starting point' course and deals with the fundamental rules of joining wooden components together to form the framework for a simple furniture piece.
The product of the course will be a small table with four legs and a top, all of solid wood.
This table serves chiefly as an interesting vehicle for the student woodworker to learn several important disciplines that provide fundamental knowledge about some of the skills that must be mastered in order to develop as a craftsman woodworker.
The construction and size of the table is designed to be easy to make, even for the novice woodworker. Dimensions and basic construction details follow a pattern in the table project for each student.
There is a choice of wood from which the table is made. The student may also influence the shape and character of the table.
Course Content
Measurement and lay-out
Use of the bench and the vise
Safety in the workshop
The datum of face-side and face-edge
The rules of planing
Sharpening edge tools
Choice of suitable tools
Dealing with difficult wood grain, including end-grain
The choice of suitable hardwoods and their sources
Making the haunched mortise and tenon joint as a sample
Making the cross halving joint as a sample
Making the slape joint
Making the solid table top from several boards
Use of the band saw
Use of the table saw
Use of the compound mitre saw
Use of the drill press
Use of the chisel mortiser
Use of the jointer
Use of the thickness planer
Procedures for clamping and gluing
Preparing wood to accept a finish coating
Exploring various types of finish coatings
Exploring the various options for developing the appearance and ultimate shape of the table
The cost of all materials (wood, glue, abrasive paper, finish coatings, hardware
and fastenings etc.) is the responsibility of the student.