Long Bowl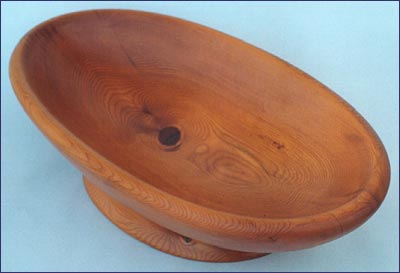 18 in. x 11 in. x 5 in.
Carved from Western or Pacific Yew
This bowl may be used for salad, fruit or bread. It is made from yew, a hardwood native to British Columbia. The wood has a pleasant colour and is hard enough for the manufacture of tools such as mallets, clamps and planes. It is also suitable for utensils such as spoons and bowls.
The piece of yew from which this bowl was carved, was unusually large in section. Large yew trees are fairly rare. This tree came from the west coast of Vancouver Island near Kennedy Lake.
The foot of the bowl was carved first and then the inside of bowl was hollowed with a gouge and a (yew wood) mallet. The smooth hollow surface was achieved with a steel scraper, ground specially to suit. With the inside of the bowl finished, the blank was turned over and the shaping of the outside was completed with the use of a chisel, a spokeshave and a scraper. The wall thickness of the 'shell' was estimated by pinching the wood between thumb and finger. Finally, the top edge of the bowl was cut and shaped, for a smooth transition from the interior to the exterior.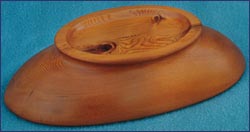 When working with solid wood of large section, it is likely that knots or shrinkage cracks are encountered. The carver must incorporate these natural defects into the work, since they are unavoidable. This bowl has a 'heart-shake' (shrinkage crack) which has been dealt with by sealing and finishing.
This bowl has simple lines. It is commodious and the grain of the yew is enhanced by the carved shaping. The colour of the wood has a warm redness.
The surface is smooth and pleasant to touch. It is finished with tung oil, rubbed and burnished by hand. This kind of finish will only improve with age and careful use.