Large Salad Bowl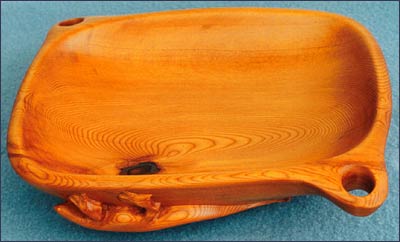 17 in. x 14 in. x 3½ in.
Carved from Western or Pacific Yew (Taxus brevifolia)
The wood from which the bowl is carved is classified as a needle bearing softwood, but in actuality the wood is hard and tough. The European species was coveted in the past, and yew trees were guarded and protected.
Straight grained yew staves were used to make archery bows. In British Columbia, yew has been used to manufacture propeller bearings for trollers. Tradition has it, that a yew-wood bearing 'runs' more quietly and there is less underwater noise to scare the salmon.
You will note that there is a large knot and some shrinkage cracks (shakes) which are unavoidable blemishes in this particular piece. The wood has been sealed initially with epoxy resin, and a 'finish' of vegetable oil has been applied. Tung oil was used to build a matte finish.
The patina will improve with use, if the bowl is regularly coated and polished with oil. It must only be cleaned with a damp cloth and should never be immersed in water. Apply olive oil with a soft cloth and after a few minutes wipe away all the excess oil and polish the surface with a clean soft cloth. A word of warning is necessary however, oily rags pose an extreme fire hazard, so dispose of oil soaked rags very carefully.
The intricacies of the carving are best brushed out with a soft bristle paintbrush. A two-inch wide pure bristle brush is most suitable. The brush should be washed thoroughly with dish soap and warm water after use to remove all traces of oil.
The bowl may be used for food: fruit, bread and salads. If the bowl is used for food then olive oil will help the wood retain its colour and sheen.