Large Dining Table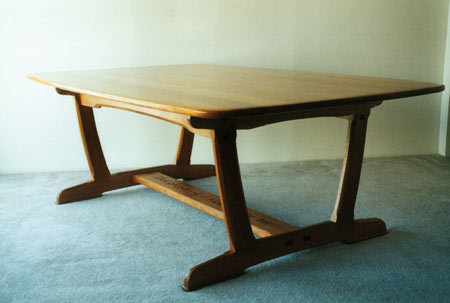 95 in. x 54 in.
quarter-sawn White Oak
This table will seat eight people quite comfortably. The type of construction might be described as traditional. The table-top is supported with two trestle type frames joined by three longitudinal members. The frames each have curved stanchions, which are mortised directly into a top and bottom rail. The two frames are joined together with raked rails, which define the length of the support structure, and provide a great amount of structural integrity. These two side rails are mortised through the end-frames, and the end grain of every tenon is exposed. The tenons are wedged with yew, to provide an accent of contrasting colour and also to impart extra strength to the joint.
The bottom rails of the two end-frames are joined with a massive bottom stretcher rail. This too is mortised right through the end-frames. The end-grain of the stretcher is exposed on the outside surfaces of the piece, where the wedged tenons boldly indicate the construction method.
The one-piece table-top is fabricated from carefully matched oak boards joined in the traditional (slape joint) manner. The top is shaped to compliment lines of the support structure. The edges of the top are carefully finished with subtle chamfers and rounded edges. The top is fastened to the sub-structure with large brass expansion plates. These 'buttons' allow for the woodwork to shift, as temperature and humidity changes demand.
The table is made to be strong and sturdy. The construction is very traditional and particularly suits the material, quarter-sawn oak. The lines of the table reflect the organic nature of wood in a very elegant and undated fashion. The edges of the supporting structure, are finished with broad stopped-chamfers, which enhance the tactile feel of this piece of woodwork. The bottom stretcher rail is chamfered almost to its limits, and it is further decorated with the incised quotation, 'Thou preparest a table before me'.
The design and construction is very typical of the work of Peter Leonard Bailey. The table is available with chairs made in the same careful discipline.