Dining Table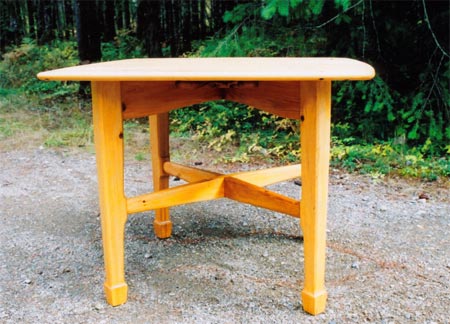 40 in. x 40 in.
Douglas Fir
This table is made from the timbers reclaimed from the demolished sawmill at Youbou on Vancouver Island. The wood was obtained by chance but it was immediately obvious that it was of excellent quality despite the iron stains and nail holes. It seemed a good idea to make a table from this wood, to reveal its character and to give it a new life.
The supporting structure of the table is created by two frames, which are joined crosswise. Each frame has two legs and an upper and lower rail. The rails join the frames with a 'cross-halving' joint, which is supported further by two squared 'knees', which fit opposite each other. The knees provide excellent strength and rigidity. The large sections of the legs are obtained by laminating the limited material available.
The table surface is made from many boards joined in 'slape' fashion so that any tendency to warp is eliminated. The rails of the under-frame support the top of the table across the grain. The top is fixed in place by solid brass expansion plates made specifically for this table.
The table is finished with tung oil. This enhances the natural colour of Douglas Fir to a warm reddish hue. The stains and evidence of nailing in a former life, show as blackened areas here and there in the woodwork but in no way do these intrusions detract from the pleasant appearance of the table.